WHAT WE DO
Our flagship company the Kandy Tyre House Pvt Ltd is the key constitute of the MAG Group and remains as one of the largest tyre retailing companies in Sri-Lanka. We are very much committed to providing high quality products and excellent customer & after sales services which have been recognized by the industry experts, both locally and internationally, to be one of the most dependable and professional in the market. The company has an extensive branch network in the major cities, employing a dedicated and well experienced work force. By being innovative in our stride to provide a high quality service, we have adopted new business concepts backed by the latest technology.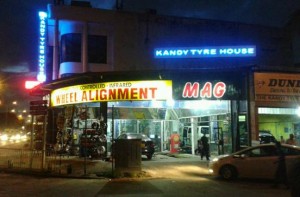 Our parent company retails a wide range of tyre brands. This includes Dunlop, GT, Nankang, Pirelli, Maxxis, Yokohoma, Nexen, Bridgestone, Ceat and we also undertake special orders. Our showrooms also have vehicle batteries (Exide, Global, Amaron, GS, 3K, and Globatt), alloy wheels and tubes.
OUR RECENT ACTIVITIES
The Kandy Tyre House Pvt Ltd has recently expanded into the vehicle detailing sector of the automobile industry. This branch is responsible for services such as Vehicle Washing, Wax (hand/machine), Fuel system cleaning, Engine dressing, Full Service, Cut & Polish, Interior Cleaning, Tyre repairing & Vulcanizing and more. This branch takes pride in using the internationally recognized 3M products for all its services. The Kandy Tyre House Pvt Ltd is open from 8am to 10pm for the convenience of our valuable customers.
OUR CORPORATE CLIENTS
We have maintained healthy business relations with several well-recognized companies island wide.  For the past 8 years, Sri Lanka Telecom Plc has remained as one of our main business clients and we are proud to say that we have met all their tyre requirements without a single complaint. Other clients that we do business with include MAGA, Ministry of Fisheries, Pension Department and Central Finance to name a few.
OUR BOARD OF DIRECTORS
Mrs. Manelle Goonatilake (Chairman)

Mr. S.B Goonatilake (Managing Director)

Mr. P.B Goonatilake (Director)

Mr. C.B Goonatilake (Director)

Mr. Sapumal Goonatilake (Director)